Welcome to the G and S Groves Products page.
We will not start shipping until the last week of November.
On this page you will find the products we sell online.  When you are ready to order, just hit the "Add to Cart" button that is listed with each product.  The cost includes all shipping and handling fees.  Please note this is true unless there is an address change for delivery after the fruit has been shipped.  Then the $7.00 fee that Fed Ex charges us will be billed to the customer ordering the fruit.  Other information on this page includes the amount of a bushel of fruit you will receive for each code, the approximate shipping weight for each code, information on how to use our shopping cart, information on shipping, our privacy statement, and our guarantee.
The Code is as follows:  The first letter is the type of pack, G=gift,  the next two letters give the fruit type, RR=Rio Red Grapefruit, NO=navel oranges, TA=Tangerines, VA=Valencia oranges, LI=limes and LE=lemons, and the last two are numbers give the weight of the fruit, ie 06 is six pounds, 12 is twelve pounds , etc.
Rio Red Grapefruit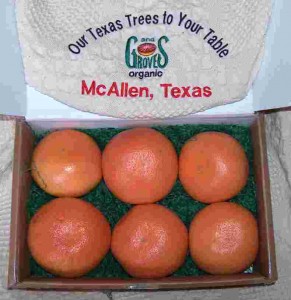 Once you've tasted our sweet and juicy organic Rio Red Grapefruit, you'll never settle for any ordinary grapefruit again. Please send everyone on your list a gift of the State Fruit of Texas, the Rio Red grapefruit. Don't forget to send some to yourself.

Code
GRR06
GRR12
GRR24
GRR36
GRR48

Cost
$24.50
$33.50
$53.00
$72.00
$90.00

 
 
 
 
 
 
Valencia oranges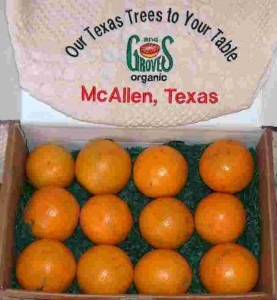 Once you've tasted our sweet and juicy organic valencia oranges from Texas, you'll be stuck and will never settle for store purchased valencia oranges again.  Please send everyone on your list a gift of our valencia oranges.  You won't be disappointed.  Don't forget to send some to yourself.

Code
GNO06
GNO12
GNO24
GNO36
GNO48

Cost
$24.50
$33.50
$53.00
$72.00
$90.00

 
 
 
 
 
Combination Packs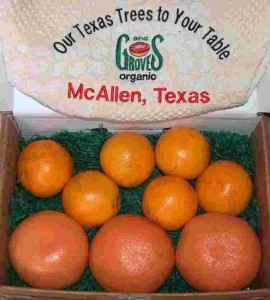 Our combination packs are packed with the great fruit that we use in our stand alone packs.  The difference is that you receive about 1/2 of the weight in grapefruit and about 1/2 of the weight of oranges.  The grapefruit are packed first and then the oranges finish out the box.  We have found that this method of packing helps keep the box from being side heavy and the fruit is in better condition when it gets to its final destination.

 
 
 
 
 
Fruit of the month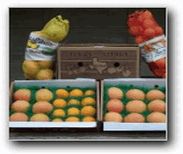 Fruit of the Month club is designed to provide customers with a box of fruit each month.  The shipments will start in December and continue through through March.  The shipments will be as follows:
A discount will be given to those who join.  The discount will be based on how long you have been in the Fruit of the Month Club.   The discount for the second month will be $2.00, the third month will be $4.00.  Select a box size and order.  If you want only one type of fruit let us know.  That is if you only want grapefruit state only grapefruit or oranges state only oranges.

Code
GFM06
GFM12
GFM24
GFM36
GFM48

Cost
$24.50
$33.50
$53.00
$72.00
$90.00

Week of ShipmentDecember
January
February
If we have fruit early March

What is in the box?Navel Oranges
Rio Red Grapefruit
Rio Red Grapefruit
Valencia Oranges

Lemons

The lemons we have are the Meyer lemon variety and are commonly called the "Valley Lemon".

The table below gives the code, the amount of a bushel of fruit you will receive for each code, and what the approximate shipping weight for each code will be.
Code
XXX06
XXX12
XXX24
XXX36
XXX40
XXX48

Amount of a Bushel
1/8
1/4
1/2
3/4
7/10
1

Shipping Weight
6 lb
12 lb
24 lb
36 lb
40 lb
48 lb

 
 
 
 
 
Shopping Cart Information
We are providing the following information in order to make your experience a pleasant one.  Please make your selection, and click "Add to Cart" button. This will take you to the next screen. If you click on "Continue Shopping", this will allow you to add more line items to your shopping cart.  If you want to remove a line, click the box under "Remove" and then click the "Delete Item" button. If you want to change the quantity, type in the new quantity and then click the "Edit Quantities" button.  When your shopping cart is complete, click on the "Complete Order" button.  This will take you to our Go Merchant Account.  Please fill in the information required.  Don't forget to include your E-mail address and a phone number for the recipient.  You will need your credit card number to complete your order.
If you have multiple shipments to order: order the total number of boxes of fruit you want, and then send the addresses to us under separate cover.  We will ship the boxes of fruit to those addresses.
If you run into trouble, let us know and we will be glad to help you.
We accept MasterCard, and Visa credit cards.
Shipping Information
Some basics on shipping.  We ship via FedEx.
1.  FedEx will not allow us to ship to P.O. boxes.  We need a physical address to ship to.  No exceptions.  The physical address needs to be correct.  The person(s) receiving the fruit need to be at the ship to location when the fruit is delivered.  Our shipper requires a local phone number for each shipment in case of delivery problems.  If these conditions are not met, our guarantee on the fruit will be void.
2.  If you ordered through our shopping cart, you will receive an E-mail stating that your order is being processed.  It takes a day or two to process your order for shipment.  We pick and pack the day of shipment.  You will then receive an E-mail from FedEx stating that your fruit is being shipped.  FedEx will pick up the boxes in the late afternoon, and your fruit will then be on its way.  You can track you fruit shipment via the FedEx website.
3.  Because our shipping volume has increased, Fed Ex gives us a discount on shipping.  This discount is passed directly on to our customers by not raising our prices, but by subtracting the discount out of our costs.
G and S Groves Privacy Statement
We at G and S Groves will not sell your information to anyone.  Our commitment is to sell you the best organic citrus fruit we can produce and to conduct business honestly with your best interest at heart.  We collect information about you so we can sell and ship organic citrus to you.  This information collected is about the sale and shipping of our products to you.  G and S Groves employees are instructed to hold your information in strictest confidence.
Our Guarantee
We offer a guarantee of satisfaction.  Please notify us immediately if your box of fruit arrives in poor condition.  We will gladly replace it on a one-time basis.  Note: this guarantee does not cover the taste of the fruit.  We also reserve the right to void this guarantee if a shipment is returned to us because it was not deliverable to the given address, or if the fruit was returned because the recipient would not accept delivery.  Don't forget to give us a call if you are not satisfied.  We want you to be happy with your fruit.